Hi my name's Naomi and I'm a bagaholic. I'm a reliable saver but when it comes to handbags I always struggle to say no. As a result, I've been in a position to buy a couple of 'it' handbags that I will keep forever and always enjoy using.
Although I have a weakness for a beautiful handbag, what I have learnt throughout my purchasing journey is that there are some incredible 'dupes' on the market for a range of prices, many at a more affordable cost to the majority of buyers. So, I've had a hunt for some of the top 'it' handbag dupes of the moment, to show you that you don't have to spend hundreds (or thousands!) to enjoy a similar look as part of my #SavingSeason. This week I'll be showcasing those inspired by the Gucci Dionysus. Priced at £1420 the Gucci Dionysus is quite modestly priced in comparison to many other 'it' bags, but do you need to spend this amount to stay on trend?
Gucci has made a wonderful comeback in 2016 and is now regularly seen as a brand worn by bloggers and YouTubers alike. From the Gucci loafers to this beautiful bag, the brand has gone through somewhat of a revival which has seen the Gucci Dionysus make a statement in the fashion world. The unmistakable monogram print would have to be faked to truly resemble the bag, and while I don't encourage heading to a  blatant fake for personal reasons, I would direct you to the following bags which carry a great deal of Gucci inspired style.
Zara Split Suede City Bag
www.zara.com, £69.99
JARVA Snakehead Crossbody Bag
www.shopjessicabuurman.com, $105
ASOS Vintage Leather Cross Body Bag With Metal Ring Detail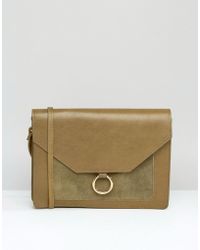 www.asos.com, £28
ALDO Blush Jewelled Top Handle Bag
www.asos.com, £55
So why not try the look with one of these beautifully inspired handbags?